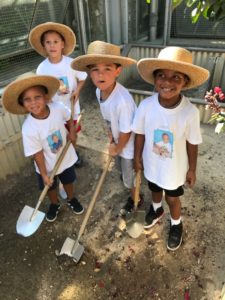 At Chris' Learning Center, Inc., we believe that play is a child's work and that learning occurs during developmentally appropriate, child-centered activities and experiences in a safe and nurturing environment. We believe that children learn best when concepts are meaningful and relevant to them. Providing a learning-rich environment that promotes intellectual curiosity, social values, and emotional well-being, we believe that each child is a unique individual and that all children can learn.
Diverse Child-Centered Programming
It is our mission to provide child care to a wide range of children of all ethnic diversities, all ages, keeping in mind the inclusion of children with needs that are different. Our program provides inclusive settings that recognize children's varied abilities, interests, needs, and learning styles. Our child-centered program reflects the integration of physical, cognitive, social, emotional, language, self-help, and aesthetic areas for the total development of the child. We encourage curiosity, discovery, and problem solving which allows individual growth and development of a positive self-image.
Why Parents Love Us
Healthy eating habits, along with developing a positive attitude and regular physical activity, contribute to a child's physical growth, the capacity to learn, and the development of a positive body image and self-esteem. Evidence shows that children who are active tend to have fewer behavioral and disciplinary problems, do better in school, and have longer attention spans in class.
Our curriculum is planned to enhance and challenge particular, distinct individual needs, interests, and abilities. Activities and relationships occur in a healthy, positive and relaxed environment. Our teachers provide personal attention, guidance, and nurturing to each child. They work toward educating the whole child to set the stage for life-long learning. Children are assessed on-going, reflective of their experiences, and within the context of daily classroom activities. Teachers collaborate with families to support the development of the child and home-school relationships.
COVID-19 Safety Practices at CLC, Inc.
| | | |
| --- | --- | --- |
| Daily temperature/wellness checks | Masks required for staff & children | Small class size |
| Frequent hand washing | Safe lunch practices | Closed-circuit cameras |